Frontier Rottweilers & Shiba Inu, Rob Richardson Art, Working Class Canine, Dogs By Diane and Rob Richardson's Whitetail Services, D's Birds & Bees

Next Page



click here to go directly to site navigation


click here to go directly to contact information

Welcome to Frontier!

We have had Rottweilers in our New Hampshire home since 1985 and can't imagine life without at least one of these lovely dogs. We hope you enjoy your visit t
o our website and find it interesting and helpful.


Our breeding goals are to produce dogs that are as close to our view of Rottweiler perfection as possible; Dogs that fit the AKC breed standard, have pedigrees that were given much thought, are highly intelligent, highly trainable, family safe, as well as having sound and healthy minds and bodies.
Additionally we feel that a proper Rottweiler should be able to compete in a working venue (s) that the individual dog shows an aptitude for (Sch, Obed, Rally, Herding, Tracking, Agility) with success, be a good citizen in public, be a good family member, scare off unwelcome intruders, not be so wired and crazed that they need to be kennel dogs nor so dull that you can't get them out of the house. They should be highly intelligent and easily trained. You should not have to beat your head against the wall while training. If this is not your view of a "Proper" Rottweiler, than one of our dogs is not for you!
Our personal goals are to educate people about the special needs, requirements, characteristics and personalities of Rottweilers,as the breed is not suitable for everyone or every circumstance and educated buyers make better owners!


Thank you for visiting us!

This web site is dedicated to the first loves of my life,
My brother and My first Rottweiler,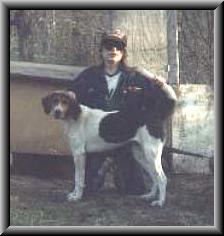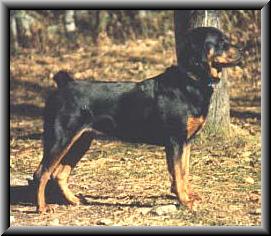 Dennis E. Brown
8/25/67 - 3/15/88

Cherich's Annie's "Magic"
12/2/84 - 5/15/93

And my closest soul-mates now gone:

Darla, Bea, Bonnie , Annie and Itsy


SITE NAVIGATION
ROTTWEILER INFORMATION
OTHER INFORMATION

History, Health stats,
Insurance, etc




Interest in breeding dogs?







Written by Diane Richardson






How to use clicker training method






Choosing a boarding kennel






Our breedings past and future




Our Shiba Inu


Past dogs




Bella's Page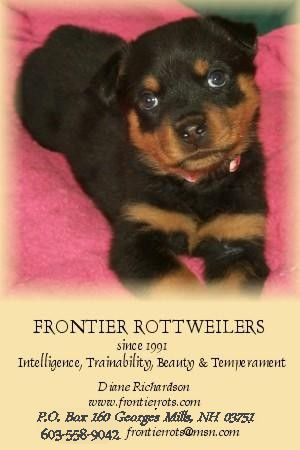 Send questions and comments to: Diane Richardson
Last updated 6/20/23
© Copyright 2023 Diane Richardson, All Rights Reserved