This is NOT a new disease. It has been around a long time. In the late 80's and 90's and even early 2000's it was being diagnosed in Rottweilers as neuronal vacuolation and spinocerebellar degeneration (NVSD or NVSCD) or Polyneuropathy, Ocular Abnormalities, and Neuronal Vacuolation (POANV).
Many Vets now use all three disease names for the same disorder.

Often times though it was never given a name.

Social media and the internet just did not exist then so the movement of info and experiences of other was slow to travel if at all. Owners just dealt with the problems and perhaps mentioned them to people they met but that was all.

Additionally many breeders rarely mentioned defects in dogs in regards to breeding as it was rare for people to be open about the flaws of lines. This is still a problem today.

The best place to start is with this video presentation by Dr O'Brien who developed the DNA test for Rottweilers and Black Russian Terriers.



Here is a video of an affected Rottweiler puppy


ALL Rottweiler breeding dogs MUST be tested. Even if your breed club does not require the JLPP testing you must for the well being of the Rottweiler breed, test!
We can eliminate this horrific disease quickly if everyone tests their dogs.

There is no shame in your dog being a carrier. Right now we have a LOT of those. Some very famous and well known dogs are carriers. Some very famous and well known breeders have produced both carriers and affected Rottweilers.

The shame is in the people who refuse to test or whom deny their dog is a carrier.

Breeding is very simple.
If your dog is clear for JLPP N/N (two normal genes) you can breed to any dog clear or carrier.

If your dog is a carrier for JLPP N/M (one normal and one mutant/JLPP gene) you MUST ONLY breed this dog to a clear dog (N/N)
Carriers are perfectly healthy and there is no stigma attached to being a carrier at this point!!!

ANY dog that has produced a JLPP affected puppy IS a Carrier.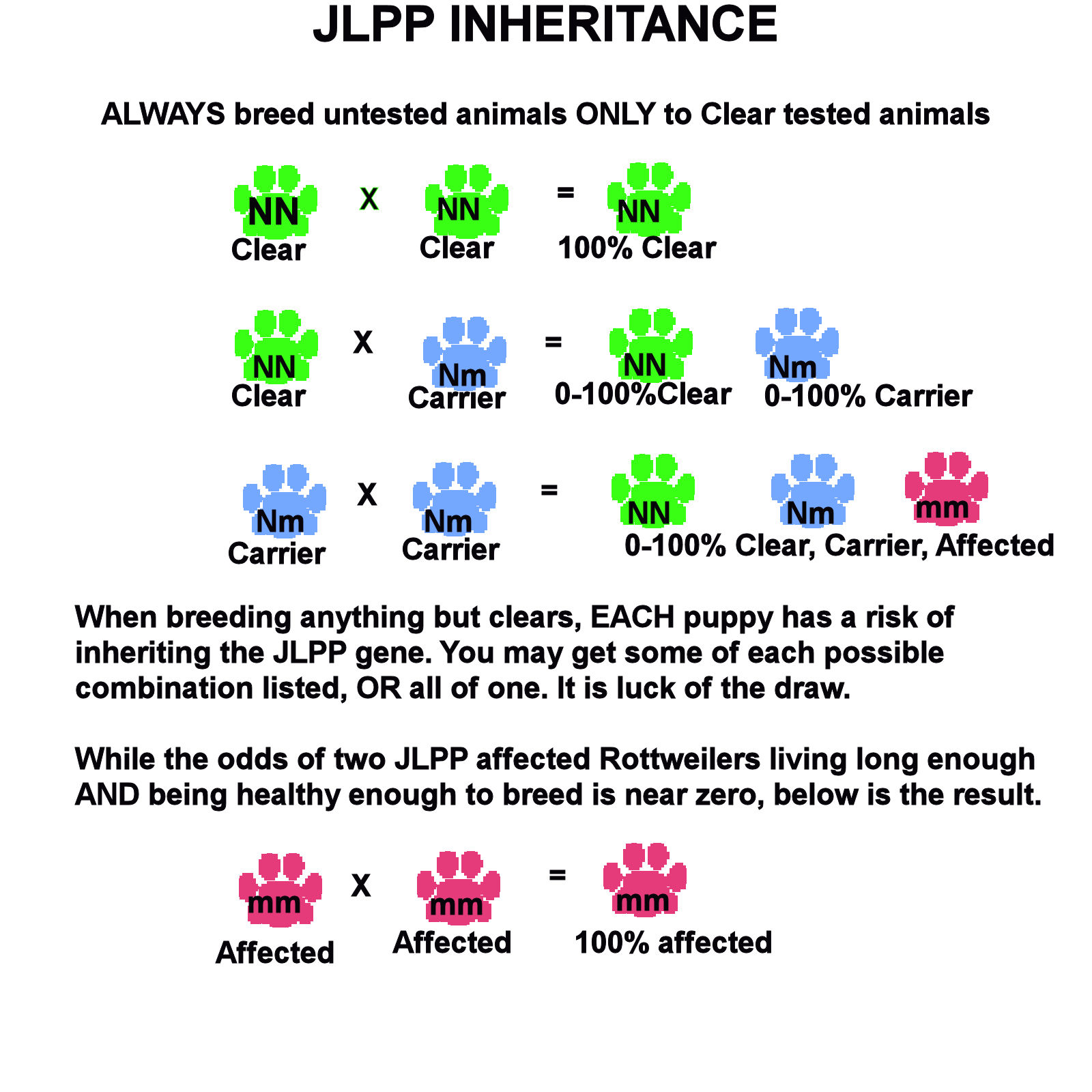 click for larger image




MY PERSONAL advice for breeding




Test all dogs you produce even those sold as pets/non breeding and disclose the results publicly.




(here in US check the box on the OFA submission to allow disclosure of carrier and affected test results)



TWO options at this point:
Breed clear to clear


Breed carrier to clear


NEVER breed carrier to a carrier OR to an untested animal.
NEVER breed two untested animals!.

IF you breed carrier to clear, "I" would then test all puppies
(they can be tested anytime after birth as long as you withhold food/milk for a time period if doing cheek swabs or no food withholding time if using a lab that uses blood samples)
and keep the best of the clears and place the carriers then into pet homes.



While we do not wish to eliminate all carriers from the current breeding population, going forward it makes sense to only keep