"Thanks so much for your interest in supporting our research into cardiac genetics.
If you wish to make more than an individual donation or organize a donation event, please contact Dr. Stern or our development office in order to ensure that funds are appropriately directed."
Darla died as a direct result of the Sub Aortic Stenosis she was born with.
To skip the SAS overview, click one of the below links.
For Dr Stern's SAS study submission information click
HERE
For an explanation of SAS diagnosis by "velocity" only (no SAS defect on echo) click
HERE
For the latest research information and SAS "radio show" click
HERE
For Darla's diet information click
HERE
For Breeding Recommendations click
HERE

ABOUT SUBAORTIC STENOSIS IN ROTTWEILERS

Sub Aortic Stenosis (SAS) is the most common congenital heart defect in Rottweilers.
Rottweilers are affected with SAS on all continents and almost all bloodlines. Many of the presumed heat stroke or poisoning deaths are later found (if a necropsy is done) to have been SAS deaths.
SAS involves the narrowing of the out-flow tract from the left ventricle leading to the aorta. When there is a narrowing of the tract, the heart must pump harder to get blood through the smaller opening. As the SAS-affected dog matures, his/her heart develops a thicker muscle to push harder, which (in moderate to severly affected dogs) leads to an irregular heart beat, a lack of blood to the heart, congestive heart failure, or sudden death.
SAS is diagnosed in living dogs by a cardiologist performing a dopplar echocardiograph exam of dogs. Severe cases can often be tentatively diagnosed by auscultation. Practitioner exams even if by echo are NOT definitive!
Note that sedation or anesthesia is detrimental to accurate evaluation.
Additionally SAS can be diagnosed by a cardiologist based upon narrowing, a ridge, velocity or all three. You dont need all three to be diagnosed with SAS, some dogs only have ONE at the time of evaluation.
Research is indicating that the mode of heritability can vary by breed, and originate at different gene locations. For example Newfoundand SAS is a totally different gene location than Golden Retrievers and Rottweilers, and Newfoundlands NOW have a DNA test!


NEWS!!!
Rottweiler friends this is going to be long but please read.
Sas update from Dr Sterns Sas is "looking" to be recessive in Rottweilers , Bullmastiffs and Goldens
Yes recessive
Here's my notes from a follow up conversation with Dr Stern
1- pattern of inheritance really does not matter until we have DNA test Any dog that is part of a pair that produces one should be assumed part of the process (recessive or dominant variable penetrance)
2- vet cardiologist are not all using most modern equipment or techniques. So not all are equal. The newer advanced cardiac form helps but not totally
3- velocities If lvot reading is taken subcostal (under ribs probe pointing forward ) then anything under 2.0 m/s is acceptable If lvot reading is not taken subcostal (below ribs) then lower levels.
Lvot taken subcostal (under ribs) will only rarely be under 1.7
(I'm not changing my personal velocity criteria (under 1.7)but I'm giving you this info)
4- in some pedigrees if recessive but common it can appear dominant even if it's not His exact words "Remember that if the gene is common in the carrier state then a recessive disease can look dominant in some pedigrees"
5- yes there can be two types like in newfs No guarantee what they've seen is the only type but all he's seen in his samples indicate recessive is most likely
6- continue to echo ALL breeding dogs until DNA test comes out AND make sure the lvot is taken subcostal (below ribs) in these cases all dogs under 2.0 m/s can be used but if they produce sas realize they likely carry it and change your plans for those dogs
7- if lvot is not subcostal or you don't know then 1.7 is a reasonable safe goal
8- when planning breedings keep the fact that sas is likely recessive in mind *do a pedigree analysis and research, looking for affected dogs , *patterns (some popular dogs clearly throw lots of sas), *use only echoed breeding dogs * consider all dogs that throw sas as a probable carrier
9- continue to submit samples to the study and hope the DNA market for testing is found soon To submit a sample contact lab at jstern@ucdavis.edu
Read the full study article here https://www.frontiersin.org/articles/10.3389/fvets.2019.00052/full?fbclid=IwAR0yRMtSZa-A8OyacOEt980MoO6OeIafoCX1xs12ajkt0Jslf9dPOpMGOtk

Also read the Rottweiler Health Foundation post 3/2/19 An update on SAS research grant.
RESEARCH PROGRESS REPORT SUMMARY Grant 02520-MOU: Identification of Genetic Markers for Familial Subvalvular Aortic Stenosis in Rottweilers Principal Investigator: Research Institution: Grant Amount: Start Date: 2/1/2018 Progress Report: Report Due: 1/31/2019 Joshua Stern, DVM, PhD University of California, Davis $44,320.00 End Date: 1/31/2020 End-Year 1 Report Received: 2/15/2019 (The content of this report is not confidential and may be used in communications with your organization.) Original Project Description: Subvalvular Aortic Stenosis (SAS) is a heart defect characterized by a fibrous ridge located below the aortic valve. Affected dogs are at risk of developing heart valve infections, congestive heart failure or sudden death. Severely affected dogs have an average lifespan of 19 months. SAS is an inherited heart problem reported in Rottweilers. The goal of this research is to identify causative genetic mutations and develop a reliable genetic test for this condition in Rottweilers, to aid breeders in making informed decisions to reduce the prevalence of this condition. Once a chromosomal region of interest is identified via a genome wide association study (GWAS), whole genome sequencing (WGS) will be employed to identify variants associated with SAS. The top variants identified via WGS will be submitted for Sequenom analysis to prioritize variant pursuit. Funding for the research is provided through the collaborative efforts and generosity of the Rottweiler Health Foundation. The AKC Canine Health Foundation supports the funding of this effort and will oversee grant administration and scientific progress reports. Publications: Ontiveros, E. S., Fousse, S. L., Crofton, A. E., Hodge, T. E., Gunther-Harrington, C. T., Visser, L. C., & Stern, J. A. (2019). Congenital Cardiac Outflow Tract Abnormalities in Dogs: Prevalence and Pattern of Inheritance From 2008 to 2017. Frontiers in Veterinary Science, 6. (Same link as I posted above) Presentations: Poster: Identification of genetic markers for familial subvalvular aortic stenosis in Rottweilers. Conference: The 2018 National Veterinary Scholars Symposium Report to Grant Sponsor from Investigator: Subvalvular aortic stenosis (SAS) is one of the most common inherited heart problems reported in Rottweilers. For this study we aim to report the top variant(s) associated with SAS in this breed. We recently published a manuscript and determined that the prevalence of SAS in Rottweilers is 1.17%. (Diane Richardson comment-this is among submitted samples, I believe the actual incidence in real world is far higher) We also have completed the first aim of this study, and pedigree analysis results for the Rottweiler breed has been publish in Frontiers Veterinary Journal. A genome-wide association study analysis was also completed, and the region of association has been identified. We are currently waiting to receive whole-genome sequencing results to proceed with bioinformatic analysis. We are continuing to recruit affected and control Rottweiler samples for Sequenom variant segregation analysis.



These are the single hardest "grades" or "diagnosis" to accept.
To have your dog graded as Equivocal or worse, affected with mild SAS and yet the cardiologist tells you the heart looked and sounded perfect on echo, with perhaps very slight aortic insufficency, aortic regurge, turbulance etc. and that your dog would have PASSED a simple auscultation exam. So you get a grade you never expected. HOW can this be you want to know?!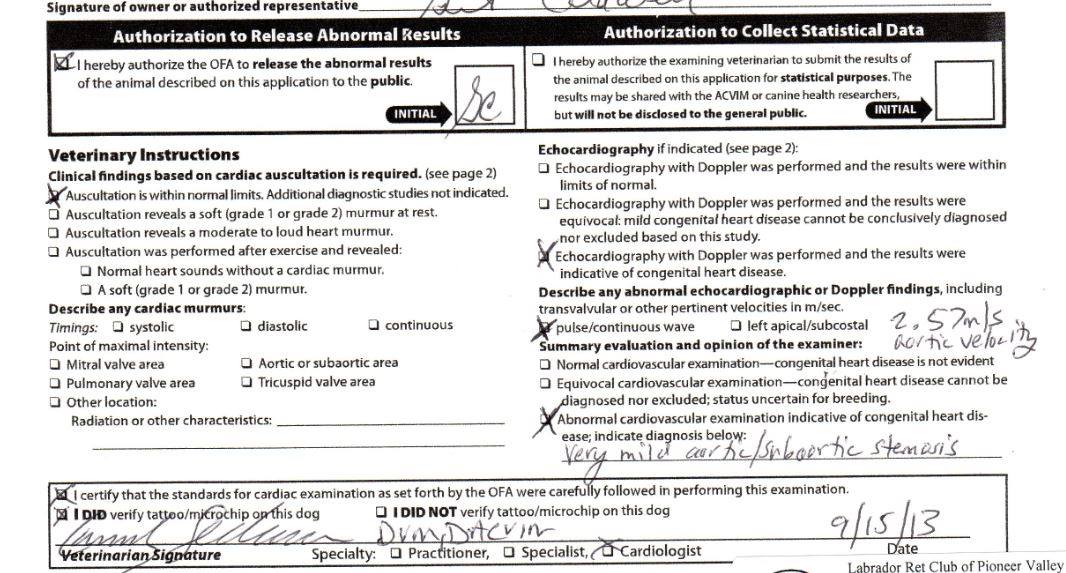 The facts are simply that the equipment we currently have is not sensitive enough to image all the tiny defects, BUT research and necropsies HAVE proven that these elevated velocities- especially when accompanied by aortic insufficiency, aortic regurge, turbulance etc- really are extremely slight affected dogs.
IF you were to open your dog's heart up, you would be able to see the miniscule defects (and in a test breeding Newfoundland study they did just that, sacrificed some of the animals produced and examined the hearts).
THIS is why I am such a STRONG advocate of breeding Rottweilers (and preferably all Rottweilers having heart certifications done) being echoed BECAUSE auscultations can and do MISS mild and equivocal affected dogs!!!
Dr J. Stern has agreed to create a short document about this for me at a future date but for now his short quote sums up the above facts:
"a device that images from outside the heart could never be as accurate as looking directly at the inside of the heart. As such, The presence of a subvalvular ridge on echo is not a requirement for diagnosis of mild or equivocal SAS. Simply the velocity has been used by cardiologists for years."

Dr K. Meurs & Dr J. Stern have conducted U.S. studies for the Golden Retrievers, Newfoundlands and Boxer breeds. Dr Meurs conducted a very limited retrospective pedigree study for Rottweilers through the RHF (Rottweiler Health Foundation) but this study was hampered by a serious LACK of participants. Since I receive calls and emails monthly from owners of afflicted dogs I KNOW this was not caused by a lack of incidence of SAS in our breed. Instead the lack of participation is directly linked to the number of breeders/owners who decline to participate!
Dr Stern is currently collecting blood samples from both affected (as diagnosed by Cardiologist echo) and cardiologist echo clear dogs (proof of clear being an OFA certificate showing the C-ECHO suffix or a cardiologist report) and they have began a DNA evaluation of these samples
Preliminary findings are that the gene(s) is/are probably similar as that which afflicts Golden Retrievers (but not the SAME one) and the likely on just a single chromosome.
A DNA test for this is highly likely, IF steady funding of the research happens.
The Newfoundland breed got their test because of steady, generous funding AND participation. One Newfoundland study had 6,000 dogs participating! Rottweiler people are FAR less likely to donate samples or money.
Rottweiler Familial Subaortic Stenosis Study
They are currently STILL looking for DNA samples from Rottweilers with a diagnosis of Subvalvular aortic stenosis (diagnosed by Doppler echocardiogram) or proven clear of Subvalvular aortic stenosis (as cleared by a cardiologist echo ) to advance their study to identify a gene for the disease.
click image for full size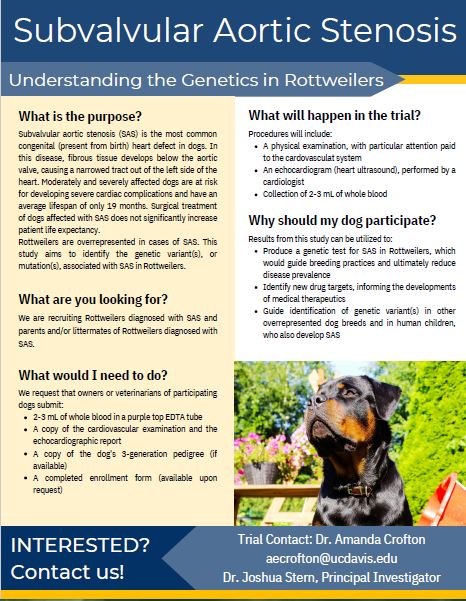 Please return THIS form with your sample and documentation/reports and mail to:
NOTE! NEW ADDRESS, EMAIL AND TELEPHONE #

Stern Lab
UC Davis School of Veterinary Medicine
Dept. of Medicine and Epidemiology
2108 Tupper Hall
One Shields Ave.
Davis, CA 95616


BE SURE to include a copy of the dog's pedigree, a copy of either the dogs OFA cardiac certificate AND/OR the cardiologist echo
Questions? Contact Info:
jstern@ucdavis.edu
Thank you very much for your submitting a sample, we greatly appreciate it!



CLICK HERE
for the 2016 study report
VERY encouraging news, more research is needed and they need FUNDS!!!!
Click Below to listen to Dr Meurs answer questions about SAS (8/15/2011)
December 2010 report
Click to read
MANY THANKS to all for helping Darla's death (and that of other affected dogs) to help other Rottweilers in the future.

Darla's Diet