P.O. 160
Georges Mills, NH 03751
(603) 558-9042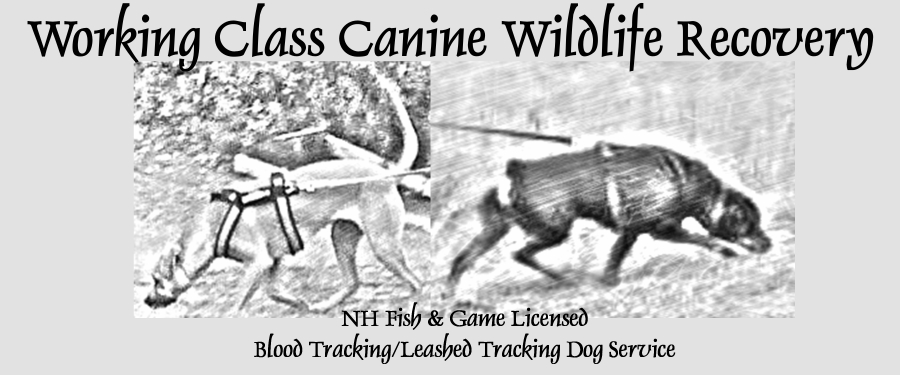 Wildlife Recovery Information

(also called wounded wildlife recovery, leashed tracking dog or blood tracking)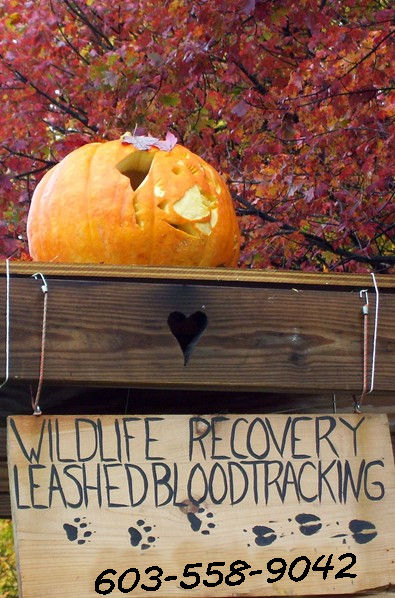 We are

very

sorry, but our dogs are not trained to track lost pets.
Please contact
Granite State Dog Recovery
for their expert assistance in locating your missing friend.
---
Scroll down to read all or:
Click to skip right down to Rules, Hints and Instructions!
Click here to learn About us
For the Fish & Game and NH Blood Trackers lists of other NH trackers click here
For an illustration of a Whitetail deer skeleton and arteries click here
For a photo of an alive high back hit buck click here
OR
To watch our "High Back Hit Whitetails" educational clip click here
High back hit deer often stagger or drop as if dead or hit solid, but are not in fact dead or even dying assuming infection does not set in.


PLEASE be sure to read the "PURPOSE" and "RECOVERY ODDS" sections below
.
---
The Purpose of Leashed Tracking Dogs:

The purpose of Leashed Trackings Dogs is twofold;

1- To recover dead and fatally wounded game animals that the hunter has been unable to recover themselves

2- To ascertain that a game animal has been non fatally wounded, is highly mobile and is very likely to recover
OR
that the animal was missed entirely.


Recovery Odds:

IF your animal is dead:

the odds of a tracking dog finding it are VERY VERY high
IF your animal is mortally wounded/dying but still mobile:

the odds of a tracking dog finding it are high
IF your animal is non fatally hit (see note below):

the odds of a tracking dog and handler being able to catch up to it are poor to fair depending upon where hit
IF you push your wounded animal too soon after the shot,

you lower

the odds of recovery regardless of where hit.
IF you have a hoard of people grid search the area before you call us/we arrive, you

dramatically

reduce the odds of finding your animal.
GENERAL NOTE: Hunters keep in mind - We (as will other trackers) will do our best to recover your trophy.
However, low percentage shots ie: low brisket, leg, high back, etc, have a high survival rate (not fatal) resulting in an animal that can RARELY be recovered.

SHOULDER SHOTS where the bullet or arrow hit shoulder blade or upper arm bone but do not penetrate the body cavity are about a 50/50 recovery at best odds. These shots are best tracked in the daylight ideally because such a hit deer will still be HIGHLY mobile even if only using 3 legs, and will (unless the projectile clipped an artery or windpipe) require a follow up shot. The trackers will push the deer out of beds-often times they sneak out of the bed so in the dark you would rarely see them. IF you have enough non posted land available they can sometimes be pushed long enough (miles) that fatigue and shock holds them in a bed long enough to catch and dispatch.

BOWHUNTER'S NOTE: We have seen and heard about a good amount of calls from hunters with tree stands more than 15' high, some as high as 30+'. Shots from this height and angle often will result in a non fatal passthrough, a single lung (often survivable) hit or a bone deflection hit. Deer hit in these ways are rarely recovered by hunters OR trackers. IF your stand is higher than 15' you will need to use more care to avoid a steep down angled shot to minimize loss risk.
---
About us:


NOTE: Due to work schedule we are limited in our range we can travel and times available
Rob, Diane , Bullet and Zeus (Annie and Aeryn both
passed away in 2015, Bella retired at 12
) are licensed by the State of NH Fish & Game department for Leashed Tracking Dog services (Wildlife Recovery) and are available in areas fairly local to our home (60 minutes normally) in Georges Mills, NH.



Further distances occasionally



After dark deer and moose tracks are taken at our discretion;


We DO NOT

take bear tracks after dark





There is no fee for our services, but donations are appreciated




(see the info below the Fish & Game list link for further details)




To read our tracking adventures find our Facebook Page
Working Class Canine

---
For a list of other NH licensed trackers in NH click here
This list is updated somewhat infrequently, if you don't see one near you call dispatch to see if they have any newer additions to the list that are not yet on the website 603-271-3361

To View a map of Tracker locations click here


I'll update this as F&G updates their list


Please also see the NH Blood Trackers Facebook page

Dear Hunters:

PLEASE remember that NH Leashed Tracking Dog Handlers are NOT paid by any entity for their time and work or reimbursed for vet bills or gasoline. They CAN accept donations from hunters they track for but otherwise this is a volunteer position that they pay (to buy a license) to provide.
MOST trackers have jobs, families and obligations and while some can in fact track anytime at the drop of a hat, most have to schedule tracks around, at minimum, their jobs.
PLEASE be understanding of these facts when you call them.

If they are unable to assist you they will provide you with another name to call if there is another tracker in the area
Also remember that NH trackers cannot track in adjoining states (VT, ME) unless they also hold a license there.
(See links for VT/ME tracker list below provided as a courtesy)
THANK YOU!
---
Please be sure to read the above "PURPOSE" and "RECOVERY ODDS" sections.


Rules, Hints and Instructions for hunters who may need assistance: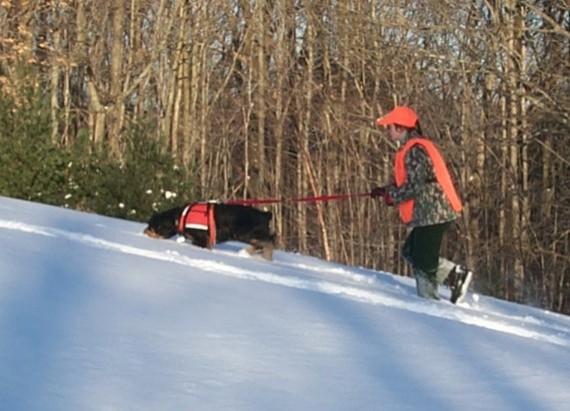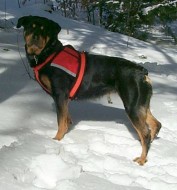 Be honest and detailed in describing your shot to the team, including what the deer did after the
shot. (kicked, fell, limped, bounded away etc)


Try to call in a team as soon as possible, While many dogs can track blood trails as old as 24+ hours obviously the sooner they are called the higher the chance of recovery
Try to avoid disturbing the area beyond the point you were able to track the deer to as much as possible.

IF YOU ARE GOING TO CALL A TRACKER do NOT grid search, circle search, clock search or anything like that. The more you mill around the more microscopic blood you track around. Your search efforts can be the difference between a dog that comes in and finds your deer and a dog that spends hours trying to figure it's way out of your scent mess
MAKE SURE that you mark (with flagging or similar) both the area where the deer was hit AND the entire track periodically, especially the last blood found. DO NOT rely on memory.
DO NOT push the deer. If you start tracking and hear a deer or jump a deer, flag the spot and

get out
If the blood gets sparse, flag it and

take a break.
If you jump or hear the deer or lose blood sign, now is the time to call a tracker. If a tracker cannot come out (there are very few of us for the entire state) then the time you took to back out and call
might
cause the unpressured deer to die and be easily found when you go in and grid search

IF you make a bad shot for whatever reason and feel the shot may have hit paunch, liver or abdomen do not even bother trying to track the deer. Flag the hit site and get out. Call a tracker now, or plan to go back in several hours but do NOT try tracking right away.


BE SURE to accurately describe the conditions that we will be working in (fields, swamp, rocky etc) so that we know what we need to bring for human and dog gear.
We prefer to NOT take night tracks due to navigation and visibility issues and also not wanting to push an animal we cannot see in the dark. However, we will take night tracks for deer under the right conditions (never for bear). Call us to discuss your situation!
Understand that the teams are not miracle workers and cannot make a non fatally wounded deer materialize and that sometimes even the dogs fail to find the end of the trail (although the use of a dog increases the odds of finding it)

WHEN YOU CALL

Click below image for a printable business card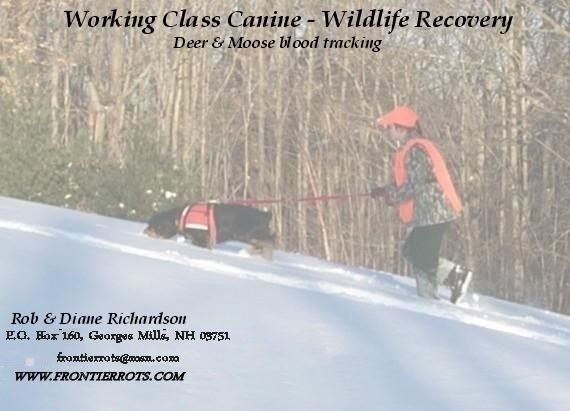 You may need to leave a voice mail, we will return your call asap so be sure to leave a good number


DO NOT SEND EMAIL if you need tracking help!




BEFORE we can leave, we are REQUIRED to call NH Fish & Game and must provide them with the
following information:
The hunter's name, address and telephone number
The hunter's hunting license number
The species and general location of animal
DURING the track

the only people who may CARRY a weapon are the hunter who shot the animal and
the licensed trackers. IF our track continues after dark, the only person who can put down the
wounded animal in the dark are the licensed trackers.
We also have the expectation that the hunter will follow our directions and will employ safe weapon
handling.