PARENTS

GRANDPARENTS

GR.GRANDPARENTS

GR.GR.GRANDPARENTS





Frontier I Ask, Who's Next, HICs, TT

OFA - RO60457G24M-T
Cardiac - RO-CA00675/21M/C-T CERF- RO4088
Elbows- (at 75 months) DJD 1 Unilateral Left, Right clear
DNA Profiled


RO53751G24M

BIS/BISS Select Ch Jade Hagen Kodiac, CDX, HIC Gold Sire

RO20558G24M

Ch von Brader's Eiger
RO11086 Gold Sire
Leibs Kraus von Baker, CD
RO10234 Bronze Dam
Ch von Whelan's Belaire of
Tobant, CD, CGC, RTD

RO38471G24F
Ch Tobant's Grant
RO26385G24M-T Gold Sire
AKC/SKC Ch Tobant's Honey
Bun v Whelan RO22604G24F

V Rated
Frontier Cache Creek Cadence,
TT, CGC

RO46816G31F

Banta's Ransom v Merkur

RO32138F24M
V-1 Merkur vom Bayernland, SchH 3, AD HD- Gekort biz Eza
Ch Windrift's Diane Desirea
RO1682E27F
Shadowhaus' Classic Starr
Ch Concord's Justin Bear
Ch Midnight Magic v Shadowhaus






U-CD B Mine vd Frolikind zu Frontier, CD, RE, TD, CGC, TT

OFA Hips RO-65856G24F-PI
OFA Elbows RO-EL5140F24-PI
OFA Cardiac RO-CA1663/14F/C-PI
CERF RO-4878

2006 ARC #5 Rally Excellent & #11 Rally Advanced, Front & Finish #9 Rally Adv/Exc combined




V1 rated, Dutch CH. Ter Waele Posse, BH, IPO III, RST, E.S.Z. 7/15/1999
NHSB # 2.257.019
HDTC
ED Frei
vWD clear
OFA RO-CA1483/51M/C-PI
Netherlands

Stephan von Kaisersteinbruch, Mil DH
(Austria)
HD Frei

O-BJS'91 O-CH Filou von der Bleichstrasse, BH, AD, SchH 3 Gekort HD-
Yola von der Karl-Adolf-Ranch, Mil DH (Austria) HD-
Ter Waele Karma, AD, BH
Hd TC
ED Frei
Eyes Clear
Brando vom Hause Pronebner, SchH 3,
IPO 3, FH Gek. b EzA HD-
Dutch CH Ter Waele Ducaat,
BH, AD HD-
Froli vom Wahrener Eck, SchH 2, BH, AD, BST, OA, AXJ, VX
ARC 2002 #4 Novice Agility Jumpers, #7 Novice Agility Standard
ARC 2003 #8 Open Agility Jumpers, #9 Excellent Agility Jumpers
AKC#WP843481/01, ADRK#98100 12/3/1997, OFA RO-59197G24F-T, RO-EL3084-T, RO-CA493/17F/C-T, CERF German Import
INT/Lux/DT-VDH CH Dick vom Rhongeist SchH III, AD, BH, IPO III Gek. b. EzA
HD+/-
Pascha vom Hegestrauch, SchH 3, IPO III, FH, AD Gekort bis HD-
Asta vom Rhongeist, SchH 2, AD, BH
Gek. b. EzA HD-,
Alexa von der Zirbelnuss, SchH I , AD, BH, IPO 1, ZTP
HD-
INT/VDH-CH ES'89 Schwarz.S'90 Nemo vom Hegnenbacher Landl, SchH 3, FH, AD, BH, IPO 3 Gek. b. HD-
Bea vom Herzogsweg, SchH I, AD, BH,
ZTP HD+/-
The pathology report is here, I have my answers, I did the right thing, there was NO WAY to save Annie. None
I have my signs from her that she is good with me
I am still horrifically sad, I still cry all the time but it is more peaceful with answers and signs.
Annie was born into my hands out of my favorite dog EVER, Bea's, body. I knew Annie was "the one" from birth. She has slept with me every single night since she was 4 weeks old. Bea helped me train Annie, and Annie earned her Rally Novice title in 3 trials with the first being at just 6 months old.
When we lost Bea to osteo, Annie was just a bit over 2 years old. Annie and I battled our grief together AND together we raised the litter of siblings Bea left behind. Annie then became a working Wildlife Recovery/blood tracking dog- her FAVORITE job on Earth.
A 4 year break in training and trials and Annie came right back out and earned her RA and RE in 3 trials each, and we then comforted each other through the grief of losing Bonnie at just 2 1/2 years old (Bonnie was Annie's favorite from the litter)
Another big break and Annie came back out and earned her CD-C title in 3 trials and earned a CDX-C leg too. Annie was working the best she had ever worked as we trained our hearts out to do better those next two CDX-C legs. We had truly finally become the team that Bea and I used to be.......... and then she got sick. 43 long long days and then Annie was gone in a flash
This photo is one of my favorite photos ever,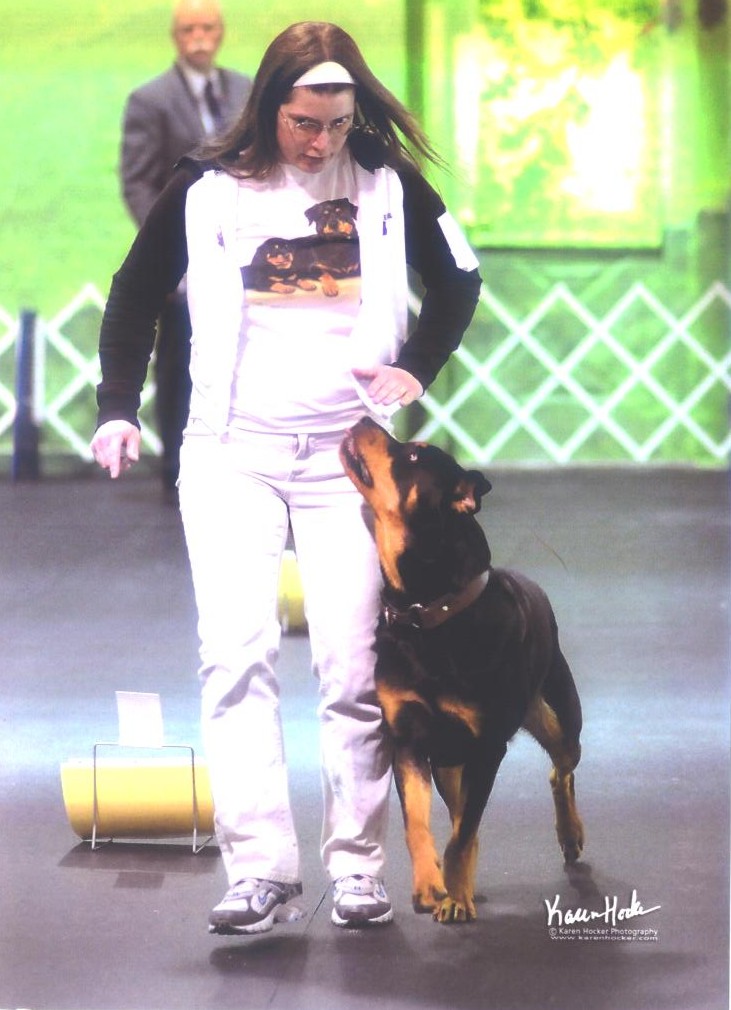 taken by Karen Hocker Photographyat The Collie Club of NH trial March 18, 2011 where we earned Annie's first Rally Excellent leg with a 3rd place. This photo is what Annie and I were, a team. We were NOT always a team. We battled the "You are NOT Bea" problem for awhile, but we BECAME a team!
Someday Annie, Bonnie, Bea and I will be a team again, an UNBEATABLE team