Site content is copyright 1997-2014 Diane Richardson, Copying ANYTHING from or direct linking to files on this site without written permission from Diane Richardson is prohibited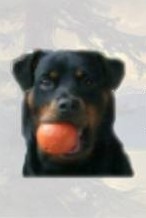 Here Are Some Links That I Think You Will Enjoy
Rottweiler Links

Frontier's Blog

When is a grumble not a growl?

Rottweiler Teeth- dentition diagrams

Jacraila Rottweilers in Scotland

American Rottweiler Club

Long Coat DNA Test

Ter Waele Rottweilers in the Netherlands

The Rottweiler Health Foundation

Rescue Links

North East Rottweiler Rescue

Shiba Rescue site

AKC Rescue Network

Homeless pets online

Shiba Inu Links

Official Shiba Inu Homepage

National Shiba Club of America

Shiba Sports

Nozomi Shibas

Training Links

Denise Fenzi Seminars - OUTSTANDING!

Working Class Canine- Dog Training in NH

Ian Dunbar' Dog Star Daily- TONS of downloads and articles

Frontier's Blog

Wounded game Finding Dogs

United Blood Trackers

Gary Wilkes-Clickstart lots of helpful articles

A wolf trains cubs

Training Tips

Antler Dogs




Books, Supplies and Other Dog Links

Microchip ID Systems - where we buy our microchips

Fancy Nancy's - Great fabric and nylon collars

Big Paw K9 - fabulous custom leather collars
Click here for a picture of the collars we bought from them obediencecollarview #1 and obediencecollarview #2
and also Conformationmartingale/leadsetview#1 and Conformationmartingalecollar/leadsetview#2

Handcraft Collars-VERY nice snap around martingales as well as snap around chokes
Click here for a picture of the snap around martingale we bought from them

Working Class Canine Tracking Gear and Books Page

AKC-CAR The best microchip registry in the U.S. (ANY brand chip or tattoo!)

Wolfpacks hiking gear and references for dogs

Alpine Outfitters- Urban Trail custom fit Harness- GREAT for tracking

Scent Articles by Kit Systems Picture of the set we bought

Crate Covers for wire crates

Lupine Collars - NH made

Dog . Com

Valley Vet Supply Catalog

Amazon Books

Dogwise books

American Kennel Club

Gear for the outdoor dog

Dog Scouts of America

Pet Edge Pet Supplies

Hyper Dog Tennis Ball Sling Shot

Greater Swiss Mountain Dog Club Backpacking titles

Wilczek Woodworks- Dog carts

Food Links
Health Links
Non Dog Links

| | |
| --- | --- |
| Our Rottweilers | Rottweiler Info |
| Raising Rottweilers | Rottweiler Art |
| Our Shiba Inu | Shiba Inu Info |




Frontier Rottweilers
Diane Richardson

P.O. 160
Georges Mills, NH 03751
(603) 558-9042

click the howling puppy to email us!








Send questions and comments to: Diane Richardson
Last updated 6/23/2015
© Copyright 2015 Diane Richardson, All Rights Reserved